Trend Micro Mobile Security
5.0
The Nippon Solution
If anime series have ever taught us anything, it is this: In times of extraordinary circumstances where human civilization itself is endangered, the Japanese will always implement the most outlandish of defense systems in order to eradicate the enemy. Being that a new area of security risks is emerging with the mobile internet, the imagination tingles too see what Nippon ingenuity can come up with. Surprisingly though, Japan's solution to mobile security issues is not a 150 meters tall warrior robot (piloted by a child preferably) but a regular mobile security app. Well it's true that the malicious apps of today pose no real danger to the current human society as a whole (unfortunately), but I would have really liked to see a mecha tearing through ceilings in search of a stolen tablet. Oh well…
Digital Zen Garden
Trend Micro Mobile Security comes with a busy dashboard that has two main sections. The one on the left shows different stats that may or may not be of any interest to you. The one the right contains the included and the non-included tools.
First off, the virus scanner can work on either the entire collection of files or just on the apps. Real-time Scan can be disabled if desired but it is essentially the only scan that you need, being performed on newly installed apps. Scanning recommends that you have internet connection on, but that is usually the case when new apps come into the local scene.
The Privacy Scanner checks apps for suspicious access rights. Though it is up to you to decide if they're stepping the line or not, by uninstalling them or placing them in a white list for future scans.
Safe Surfing also gives access to the parental Controls. Both refer to blocking content on the internet in regards to the High, Normal and Low settings. That is all fine and dandy for adults and small children. But in order to keep teens away from inappropriate content, you need to do more than just restrict Chrome and put an uninstall protection for your app. Because as long as one can install a different browser, all of the safety features can be thrown out the window.
The anti-theft tools are gathered under the polite title, Lost Device Protection. The menu is simple enough. A noticeable thing is that the remote wipe may be allowed to target only sensitive data to be removed. So in case you find you're device, you won't have lost anything irreplaceable.
But in case you really care about who sees your gallery folder, Trend Micro Mobile Security allows a cloud backup via its Backup app. Which you need to install separately. Additionally, Trend invites you to download its Privacy Scanner which checks your Facebook privacy options and allows you to modify them.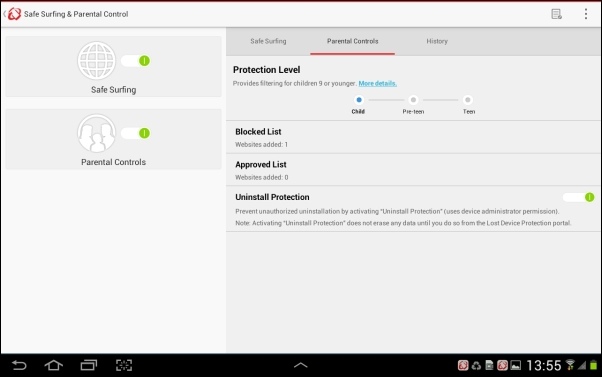 Features
Virus Scanner – it uses the clouds to scan.
Privacy Scanner – sort of like a list of dangerous to have around apps.
Safe Surfing – blocks dangerous addresses
Call & Text Blocking – only available for phones, sorry…
Parental Control
Anti-theft tools
While installed on a phone, Trend Micro Mobile Security pops up another feature: Call & Text Blocking is great for all of you suffering from annoying SMS ads or creepy stalkers. It also uses keyword filters for those that should probably change their phone number.
Pros
Partial wipe (also enhanced by the backup app)
Uncluttered interface
Scans are quick
Cons
Parental Controls aren't teenage proof.
Device locator is not very accurate.
Conclusion
Trend Micro Mobile Security is a healthy app except it's a bit pricey. If you think that I've convinced you it's worth more than the 30 bucks it requires for a year's subscription ($50 for 2 years), then go ahead. Either way you get a month for free.
---
Add a review
Tell us your experience with
Trend Micro Mobile Security
5.0
RELATED PROGRAMS
Our Recommendations
---
---
---
---